Blocked Drains Plumber Sydney
Blocked Drain Experts in Sydney - Fast and Reliable
Blocked drains have become a common problem in Sydney households. Accumulated hair, food waste, soap, and mineral build-up are common reasons which can cause a blockage in your bathroom and kitchen pipes.
External blockages can arise due to tree roots, soil, or debris build-up. The worst part is, it can happen at any time without any notice, leading to a mess and a plumbing emergency.
We know how frustrating it can be and we are here to provide you with fast, reliable, and efficient solutions. With our specialised knowledge, cutting-edge equipment, and commitment to customer satisfaction, we are your go-to experts for all your blocked drain needs.
Our team has 30 years of experience in clearing all types of blocked drains, whether it is a minor clog or a major blockage. We have the skills and tools to diagnose the root cause of the problem and can provide quick solutions.
Our technicians are trained to handle all types of emergencies and are available 24/7…call us and we'll send out an expert straightaway. When we arrive, we'll immediately get to work in identifying the problem and fix it so you can go back to living your normal life.
Our Blocked Drain Process
When you contact us for assistance with your blocked drains, we follow a systematic process to ensure a thorough and efficient resolution:
How We Clear Blocked Drains
At Sydney Emergency Plumbing, we employ various methods to clear blocked drains, ensuring that we choose the most appropriate approach for your specific situation. Our methods include:
Cost Considerations in Fixing Blocked Drains
We understand that cost is an important consideration for our customers. At Sydney Emergency Plumbing, we believe in providing transparent and competitive pricing for our blocked drain services.
We offer upfront quotes with no hidden fees, ensuring that you are aware of the cost involved before we commence any work. Investing in professional plumbing services to fix blocked drains can save you money in the long run. Our expert technicians employ efficient techniques and long-lasting solutions, preventing further damage and future blockages, which can be costlier to repair.
Common Blocked Drain Causes
There are several causes of blocked drains. The most common causes are: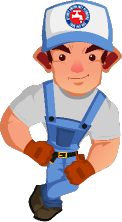 Blocked Drains Expert in Sydney
We offer upfront quotes with no hidden fees, ensuring that you are aware of the cost involved before we commence any work.
FREQUENTLY ASKED QUESTIONS
How to identify if my drains are blocked?
There are certain signs that will surely tell you that you have a blocked drain. These signs are:
Water draining slowly
Bad odour
Gurgling sounds coming from the pipes
Overflowing toilets
If your toilet drains are blocked, this is usually a sign of the blockage being located there. This is the same for your kitchen. However, if all your drains are clogged, an emergency plumber should be immediately called as the blockage may occur within your sewer line.
What causes a blocked toilet?
A drain will often become blocked due to obstruction by foreign objects, such as food scraps, jewellery, soap, leaves, plants, tree roots, hair, grease or fat and toiletries. Any of these, and many more items, can easily create a block inside your drain. Also, the age and condition of the pipes can be a significant contributor to causing a blockage. The most common items causing blocked toilets across Sydney, according to a survey in 2021, are:
Baby wipes
Cotton pads
Sanitary products
Baby wipes
Toys
Why is my bath or shower draining so slowly?
If you observe the water in your bathroom or kitchen draining very slowly, it indicates a blockage in your drain. Slow shower or bathroom drains are often caused by a slimy build-up of everything that runs down the shower drain:
Soap & Shampoo
Dirt & Debris
Dead Skin Cells
Hair
Usually, homeowners do not have the knowledge or equipment to solve these plumbing problems. Therefore, it is better to call your plumber to handle your slow-draining shower.
Why are my drains making a gurgling sound?
Gurgling sound is caused when something is preventing water or air from flowing through your drains. As the water slowly travels through your drains, air bubbles begin to form and create a gurgling sound. Whether it's your sink, toilet or shower, even floor drains all can make that gurgling sound. The possible causes are:
Blocked Drain Line
Partially Blocked Drain
Completely Blocked Drain
Clogged Vent System
Damaged P-Trap
Issue In The Main Sewer Line
Why do my drains smell so bad?
If a foul odour emanates from one of your sink or shower drains, something is likely wrong, and in many cases, it indicates a problem with drainage. They are often the result of one of the following:
A sewer gas trap problem: A sewer gas trap or P-Trap is a part of the drain where the water is stored. Its purpose is to block gases from entering the pipe and into your home. If water is not moving correctly in the P-trap, usually due to leakage, the gases can enter through the pipe and into your home.
An organic build-up: These organic residues accumulate over time in the P-trap or the pipes. The most common elements that result in partial pipe blockages causing smelly drains are:

Hair
Toothpaste
Soap
Grease
Food waste

Sewer line problems: If you've noticed a foul odour from multiple sinks, this may indicate a broken or blocked sewer line.
How do you prevent smelly drains?
Prevention is always better than trying to find a solution. Doing some simple maintenance can prevent smelly drains from becoming a problem. Here are some easy ways to keep your drains smelling fresh and clean:
Boiling water: Tip boiling water down the drains in your house about once a week.
Baking soda, vinegar & boiling water mixture: Once a month, do the baking soda, vinegar, and boiling water method.
Clean your garbage disposal: If you have a garbage disposal, regularly put ice cubes into it which will get rid of any excess grease and will give the blades a good scrub. Also cut up a lemon or orange into small wedges and put it into the garbage disposal – this leaves it smelling fresh.
No fats & oils: Avoid putting oils and fats down your sink.
No food scraps: If you don't have a garbage disposal, make sure all food scraps go into the bin or get fed to pets instead of going down the drain.
Strong drain cleaners: Use strong, commercial drain cleaners if nothing else works.
Maintain regular tap use: Make sure you regularly turn on the taps in your rarely used bathrooms. This ensures that there's no build-up of grime and prevents your P-trap from becoming empty and releasing sewer gases into the house.
Should I be cleaning my drains regularly to prevent blockages?
Cleaning your drains regularly can be your best bet to preventing any blockages and clogs. A significant blockage always starts off relatively small. Many individuals do not think about their drains until they have a problem. They usually put drain maintenance on the back burner. But, the best way to avoid drain clogs is to have your drains cleaned regularly.
Can tree roots block my pipes, and how can I stop them?
Trees should be planted at least 3 metres away from the sewer pipes to avoid root intrusion. If this is not possible and you still want to plant trees on the property, it is best to choose slower-growing trees with non-aggressive root systems. However, if trees are already a part of the property, they will most likely cause issues to the pipes. Again, regular cleaning is the best solution to ensure your pipes are always clear. If roots have penetrated your drain, you will need to hire a professional plumber with experience in root cutting technologies. Unfortunately, tree roots are invisible enemies to your plumbing health. While DIY remedies like applying rock salt and copper sulphate are great temporary solutions, sometimes expert professional root removal and pipe replacement are only the best course of action.
How can I lower the chances of a blocked drain?
However, the essential thing is to remember that every time you use your sinks, ensure you do not leave food scraps or other residues as they will block your drains. To avoid drain blockage regularly, it is vital to ensure that any inherent issues with the plumbing network are repaired. Engage a plumber regularly to inspect that all drains are performing correctly. They always have the right tools and know-how to isolate the issue and apply the proper techniques to keep drains clear from foreign deposits. Staying informed and prepared can help you avoid all the unpleasant experiences that arise from blocked drains.
Sarah Anderson
2023-03-20
After receiving an obscene quote from what I now understand to be a less than reputable plumber, I found Sydney Emergency Plumbing after a quick google and contacted them after hours for an urgently needed second opinion and advice. I am so glad I did!! Dave came out first thing the next morning on the Saturday and did a thorough inspection of the issue and gave us a significantly more reasonable quote. Dave and his team were here first thing Monday morning to replace the damaged pipe going into the sewer line. They were professional, did quality work and have left everything neat and tidy. They have made an extremely stressful situation considerably less so. I would have no hesitation in employing their services again in the future. Thank you to Dave and team.
Wayne and Tilby did an awesome job. Prompt and professional plumbing service that goes the extra mile. Will definitely use S.E.P in the future. Thank you. Very happy with your plumbing service.6 stars from us.
We have used this company every year since moving into our house. We have the sewage drains cleared out every year after an emergency one New Years. Today we woke to ankle deep water and flooding in the house, Brandon came out and cleared the storm water drains. We are very thankful!
Alasdair Donaldson
2022-03-01
They were quick and friendly! Did a great job! Now the only thing bubbling up in my bathroom are my unresolved personal issues.
Are these guys the best plumbers in Sydney? Plumbers do such an important job and unfortunately I haven't had much luck with them over the years. When a flexible hose sprang a leak late on a Friday night and couldn't be turned off, I needed an emergency plumber urgently. After hearing nothing back from the first three I contacted, I tried Sydney Emergency Plumbing. Oscar rang me back within minutes and gave me a fixed quote for the job. Given that it was a Saturday morning, I expected to pay a lot more and it was then that I began to realise I was dealing with a professional company with real integrity. Within about two hours the job was done and it was easy to tell it was a high quality one. I was so impressed I asked Oscar to quote on some non-emergency work in my bathroom and toilet. He got back to me quickly and the quote was lower than the one I already had for the job. Given how happy I had been with Oscar's work, I had no hesitation going ahead with it. Warren came out a few days later and proved just as impressive as Oscar - a real professional with strong technical and customer service skills. I'm a fussy client and Warren did everything humanly possible to keep me happy. A couple of weeks later, I noticed that one of my downpipes was blocked and overflowing. I contacted Sydney Emergency Plumbing again and they were out on the Monday. Yes, they also remove tree roots! This time Oscar was joined by Brandon, who also showed himself to be of the highest calibre. The boys did an excellent job for a more than reasonable price. My drains are now flowing like the Nepean River, as the recent heavy rains in Sydney proved. To call these guys emergency plumbers sells them short - they proved to me they can do any plumbing job for a fair price and with the utmost professionalism, skill and customer care. Well done to the team and to the owners and operators of this business. It's not easy to put a great group together and offer such an excellent service. I wish all of them every success and I hope they'll be around for many years to come.
Brandon came on New Year's Eve to come fix a leaking tap. He was friendly, timely, cleaned up after himself and also explained the problem so I could understand what was going on. Thanks!
David from Sydney Emergency Plumbing was prompt, efficient, polite and helpful and solved our problem within the hour. Highly recommended
These guys deserves more than 5 stars review with such exceptional service! I have a blockage on my kitchen sink which ended water was overflowing under the sink and sipping to my daughter's room carpet. I called up and Kate was on the line telling me she'll have to call me back once she checked with one of the plumber's availability. 10 - 15 mins later she called me back and booked me in for the next job. An hour or so, the plumbers came identify the issues and fixed the problem. Overall, this whole experience was so outstanding and I'm so glad and relief I called them up. Kate, David and Oscar, if you're reading this.. thank you again for the big help!